Perseus Land & Developments Limited, in collaboration with the Barwood Property 2017 Fund, has submitted a planning application for a 64-bedroom care home and 9 houses on a site of 2.0 acres at Wysaton Road in Ashbourne, Derbyshire.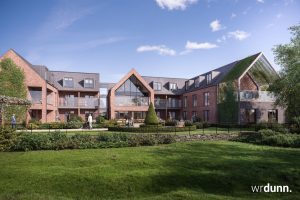 Perseus's Managing Director, Duncan Ford, commented: "I have long been aware of Ashbourne's allure as a place to live, with its picturesque town centre and excellent accessibility to the Derbyshire Dales, the Peak District and the major cities of the East Midlands. The sheer volume of sheltered retirement schemes in the town underlines its popularity among older people, and it therefore seemed entirely logical to acquire a site there for the development of a high quality care home and family housing. The site is located opposite Hilltop Primary School and adjacent to a high quality new residential development by Redrow Homes, known as Henmore Gardens. We would welcome expressions of interest in the scheme from care home operators and local house builders alike".
Perseus would like to convey its special thanks to WR Dunn Architects and Gillings Planning for their support in formulating our proposals.