Perseus Land and Developments, the developer of bespoke care homes, retirement and residential accommodation for the later living sector, in collaboration with the Barwood Property 2017 Fund, has submitted a planning application for a 70-bedroom nursing home scheme in Wallington, South London.
The site, comprising circa 1.7 acres of brownfield land, is located immediately adjacent to Wallington School for Girls and Dobbie's Woodcote Green Garden Centre, one of the biggest in Greater London. The proposed nursing home will be dementia-led and the 1.5-storey building design will sit low in the landscape, in a similar fashion to our recently consented scheme at Weybridge.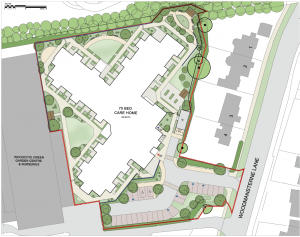 Perseus's Managing Director, Duncan Ford, commented "Getting to this stage has not been easy, with a messy legal title to resolve and third party access land to acquire, and it is a good example of how we are able to use our skills set as developers to unlock the vast potential of a Grade A site where others shied away and didn't do what they said they would do. I loved the location of this site from the outset, and in particular, I anticipate the future care home residents, their friends and family making great use of the facilities within the adjacent garden centre, which include a restaurant, two coffee shops, a farm shop and various other retail concessions. I should add that our neighbours, Dobbie's, has been fantastic to work with, and its management team has kindly offered to supply plants and expertise free of charge to the future care home residents. This promises to be another fantastic Perseus scheme".